P90X Before and After
My husband Todd and I decided to do P90X together. I had gained around 55 pounds with the pregnancy of our second child, and at 5 foot 6 and 184 lbs. was the heaviest I'd been in my life. Todd had already caught on fire about getting back into shape and had dropped 20 pounds by watching his diet, but wanted to lose the rest of the weight around his gut. He also had a specific goal - he's an Air Force Reservist, and as such has to take a PT (physical training) test every six months. With the demands of a long commute and a young family, neither of us had made much time for fitness really since late 2008, and he'd struggled to just pass those last few PT tests. Physical fitness has been a lifestyle for both of us most of our lives – we were both ready to get back to (and surpass) our previous levels of fitness and start feeling like ourselves again.
We started P90X at the start of the 2011 New Year, with the added benefit of having been forced to clean out the basement so we'd have a place to work out. P90X with surround sound is pretty engaging. I chose to do the P90X Lean Program, and Todd the P90X Classic Program.
I did one complete round of P90X, and a second, incomplete Round 2, and then Insanity. I have chosen to include just these few shots for professional reasons, and I'm sure that my kiddos woouldn't be excited to have their friends find unflattering photos of their mom online.
Start of P90x - 184 lbs End of (incomplete) Round 2 and Insanity - 138 lbs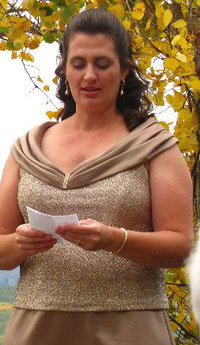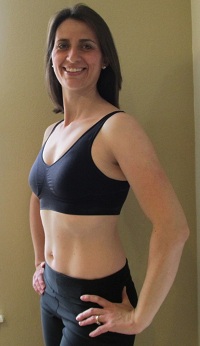 My stats for Round 1: Started at 184, ended at just above 159. Overall 25 lbs, 16 inches lost (measured my hips, arms, neck, waist and chest to come up with that figure).
The second round of P90X was VERY interrupted - lots of summer activities, trips and distractions. This 'incomplete' round added up to about 9 total weeks of workout - but I stuck to eating well. This time, I didn't see a lot of change on the scale. However, I still lost a lot of inches, and got back into all my pre-pregnancy clothes! I was amazed to do my measurements - from Round 1 to 2, I lost 2.5 inches off my chest, 4.75 off my waist, 6.5 off my hips!, an and inch off each thigh. I also measured my 'saddlebags', which is a different dimension than where you're supposed to measure hips and my biggest problem area, and lost another 1.5 inches there.

After this I did a round of Insanity. I only lost 7 lbs, but added a lot of definition in my arms and tummy area. The lesson for me has been that even though my workout schedule was erratic, it still all adds up - and boils down to what you put in your mouth.
After all the P90X and a round of Insanity, it was a little annoying that there were still 9 pounds left of my 55 pound goal. And I look back to the days where I missed doing a workout or days I didn't eat quite correctly and know why. My reality was my reality - and I also learned about making workouts a priority, instead of just fitting them in. I have more tone, strength and definition I ever had before, AND fit back into all those prepregnancy clothes long before I was near to the prepregnancy weight, so the scale isn't as important an indicator as it once was. I am looking forward to Brazil Butt Lift and P90X2 in 2012, although could see doing P90X again too. I have gone from 49% body fat to around 26%, and perhaps I'll find that I can do better than my pre-pregnancy weight of 135 (I am 5 foot 6). I used to think the BMI Index was too aggressive... now that I've seen what is possible, I'm not so sure.
Here's Todds narrative...
I actually started to get back into shape in Sep of 2010, but at the start (Jan 2011), I was still carrying a lot of fat. At 185, my BMI was 26.5 which is still overweight. Its clear from the pictures I have and definitely how I feel that I'm getting in better shape as I continue in my fitness program. By the end of P90X round 1 I was feeling good all around. I had dropped about 11 pounds and was able to jog for a solid 1/2 hour no problem. My waist had dropped from a 36 to 34, but, besides being a little more toned and down some pounds, my body shape hasn't transformed yet. So, on to round 2. In round 2 of P90X I only dropped about 2 pounds, but clearly I picked up a little more definition. Still carrying a reasonable amount of belly fat though. Well, I feel great and equally strong in all areas because P90X is so well rounded. However, I'm not where I want to be. So, its insanity time!! I'm just starting insanity and have a feeling that this is going to take the extra off the waist that I'm looking for. I have to say, the 1st workout was insane, so I'm hoping I have the stamina. I hate stopping in the middle of a workout because I'm tired, but that seems to be what's happening. My prediction is that I'll have lost the few remaining pounds I'm looking for, but I'll need 2 rounds to keep up with the insane pace. Wish me luck!
Back to Anastasia's narrative...
Results don't stop with just weight loss. I've started running again a bit (haven't done that since high school) and am participing in various short (like 5k) events and obstacle courses. My core is stronger than it's ever been, thanks to the Core Synergistics and Yoga workouts. The upper body strenthening also completely solved a sore upper shoulders/neck area left over from a car accident years ago. That wasn't a major issue for me, but I was delighted to find that I could wear a backpack without getting a headache.

Remember Todd's PT test for Air Force? He did so well on his last one he doesn't have to take it again for another year. He maxed every exercise, and came in 4th out of 40 or guys on the timed run, including all the hotshot kids just out of school. He is 44 years old. More awesome benefits beyond weight loss that have been experienced by others I know and don't know can be found in this does P90X work article.
Needless to say, we love P90X, which is why I became a Team Beachbody Coach. We've found that our results have come 40% doing the workouts and 60% sticking to the P90X nutrition plan. We both track our food intake daily and it's pretty obvious… days we stick with the plan, we lose weight or at least stay stable. Days we don't, guess what….. so don't discount the importance of following the nutrition guide.
We both use Shakeology, which helps control the hardest meal of the day for me (lunch), and we both really like the protein bars as an afternoon snack that holds you over until dinner. It took a few weeks to adjust, but we both notice now that only a smaller portion is needed to satisfy hunger at meals – and having more frequent, smaller meals really does work to help keep feeling stable with even energy through the whole day. I also did a Shakeology cleanse.
UPDATE - October 2013. I recently had baby #3. I have to do it all again! 53 pounds to lose this time - so watch for updates!
UPDATE - February 2014. I am a month into P90X3 (love the 1/2 hour workouts) and have lost 7 pounds so far. More to come!
UPDATE - Mid-April 2014. As much as I hate to say it, a work project, spring break and a family surgery threw me off. I've watched the nutrition anyway and am down 13 lbs. Starting P90X3 over from the beginning.
The Beachbody people walk the talk. These are the P90X before and after photos of the CEO (Carl Diekeler) and President (John Congdon) of Beachbody, respectively.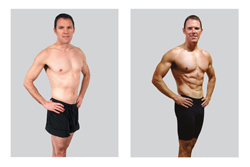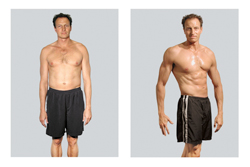 Ready to start your own P90X transformation? Order P90X, or another one of the workouts, in the Beachbody store.
If you have P90X before and after photos or success stories you'd like to share, please post them below - you'll be helping to inspire others to get healthy.
It really has been a 'transformation' workout – and that's the end of this post, because now I have to go push play!